Intimate Wedding at Harbour Mist
with rhianna & nate
blandford, nova scotia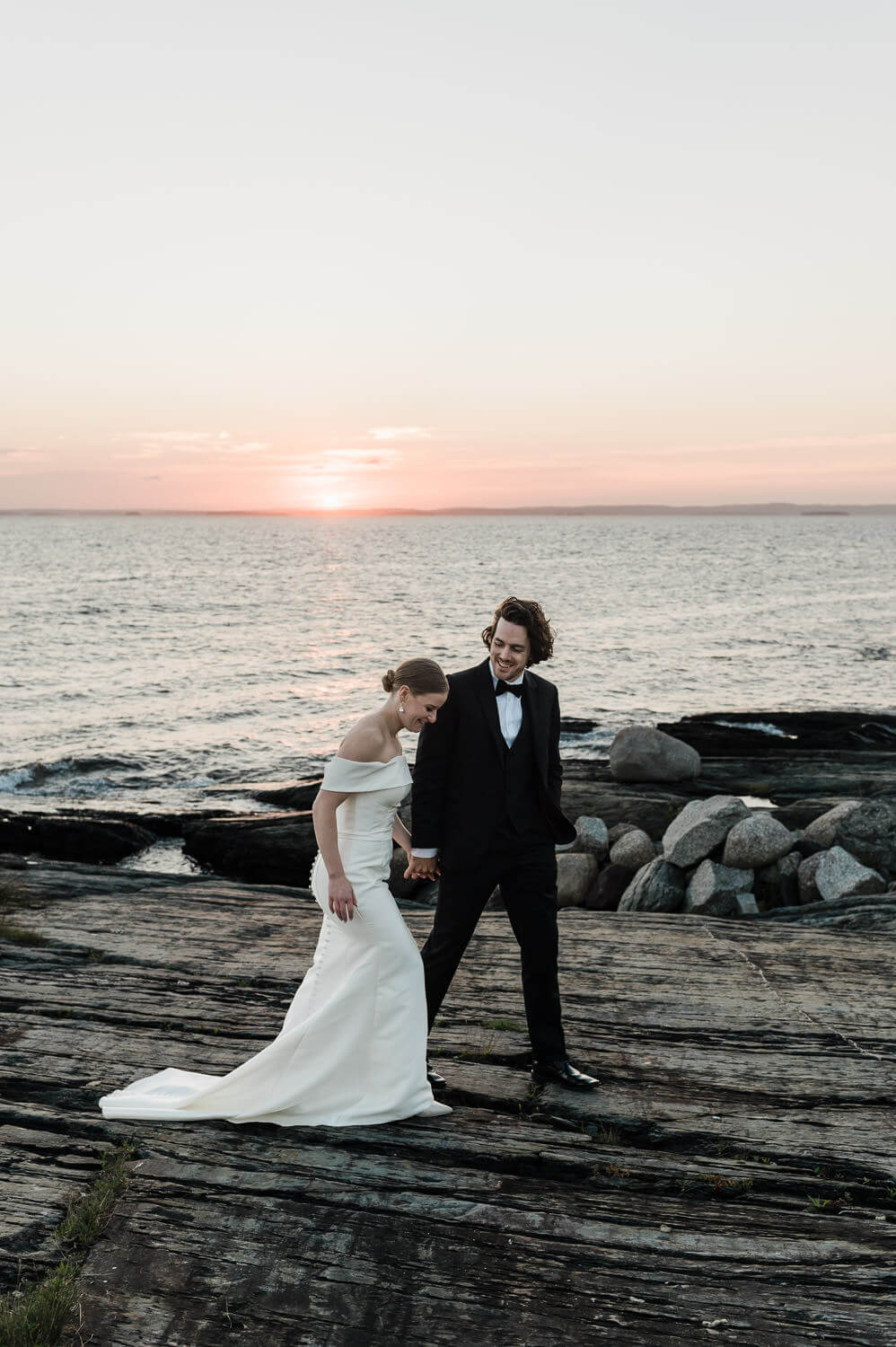 With a guest list close to their hearts, Rhianna and Nate planned a dreamy and unforgettable wedding weekend. Tucked away on the coast, they held their wedding at Harbour Mist, a large but cozy home with old European charm that gave you the feeling you were somewhere else entirely. Although the day was fairly casual, there were elegant touches throughout with the decor, cocktail hour and of course, Rhianna and Nate themselves looked like movie stars.
I didn't have the opportunity to meet the two before their wedding but it didn't seem to matter. They were wonderfully kind, relaxed, and had a way of making me feel like I already knew them.
One of my favourite things about this wedding was how Rhianna and Nate were so intentional with their planning, leaving out the things they didn't enjoy about weddings, and on the day of, altering plans based on how things felt in the moment.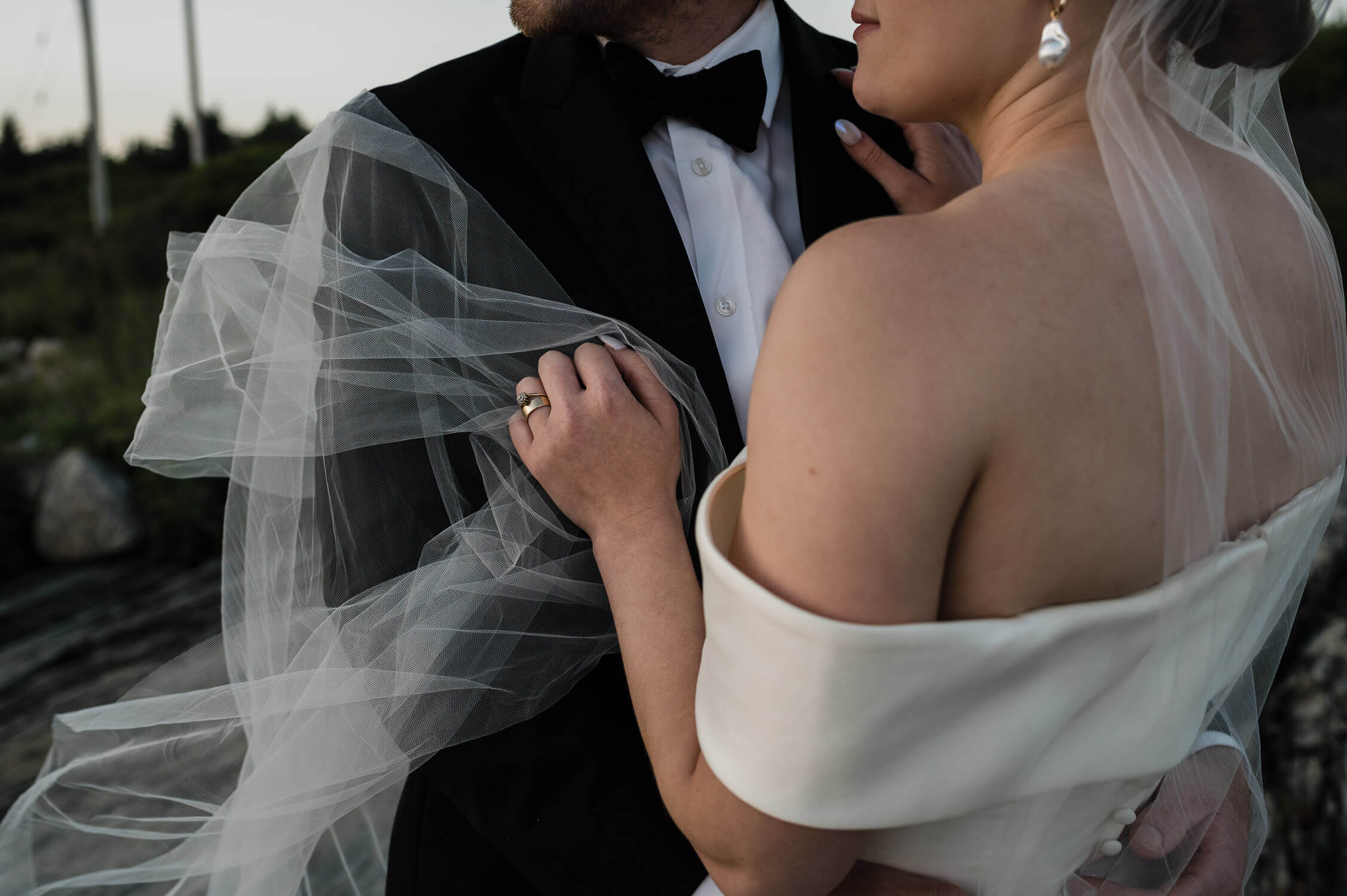 "To us, a wedding means bringing together the people who have known and supported you as a couple. No matter how many people that is."
harbour mist, blandford, nova scotia
What did you love about your location?
Why did you choose to marry?
We honestly weren't going to ever get married - we weren't a fan of the lavish style that weddings traditionally are. But, when we decided to move from Vancouver to Halifax it marked a new commitment for us to spend our lives together. And so, one month after moving back to Halifax, we got engaged. It just felt right for us.
To us, a wedding means bringing together the people who have known and supported you as a couple. No matter how many people that is.
What didn't we love about our location (Harbour Mist)?? Nova Scotia is so beautiful and Harbour Mist was the epitome of all the beauty we love about Nova Scotia. Since it was an AirBnB offering a multiple night stay, it was able to provide us with a wedding experience rather than just a single day. We were able to host 8 of our closest friends for a multi-day stay leading up to and after the wedding.
Don't be afraid to change or cut things the day off. We moved our first dance from the traditional after dinner time to a private end of the night first dance. I (the bride) simply became uncomfortable with the "all eyes on me" notion and wanted to enjoy every moment of the night. We also were meant to have a sparkler exit and when the time came to do it, it didn't feel right. Rachel even had to remind us it was in our shot list! Our guests were having a really good time and we didn't want to interrupt it for a photo-op. That wasn't the purpose of our wedding.
Also don't be afraid to exclude traditional items from your wedding during the planning process. My husband and I sat down during our planning process and discussed all the things we hate about weddings we've been to. Speeches (we had none) and paying for drinks (we had an open bar). It's your wedding!
What advice would you give to future couples getting married?
My favourite memory is being down by the bonfire chatting with people and then just hearing this very loud singing and laughing. When we strolled up to the tent to see what was happening, our friends had taken it upon themselves to start up karaoke. I loved that people felt comfortable enough to do so, and I also loved the feeling that we had really curated an experience for our guests to let loose.
Also the oyster bar!
Do you have a favourite memory from the day?
This photo is our favourite because it honestly looks like it could be in a magazine. When I (the bride) first saw our location, I had a vision of what our wedding photos could be and the experience we could have and Rachael captures everything so beautifully and I really feel that this photo is (corniness upcoming) what our love looks like.
cake (or pies in this case!)
SPECIAL THANKS TO ALYSSA JOY PHOTOGRAPHY FOR SECOND SHOOTING WITH Me ❤️